Everybody likes Mondays, right? Well, maybe not, but there's at least one Monday that gives cause for celebration, and it's coming soon.
Labor Day, first celebrated in 1882 and made a national holiday in 1894, awards hard-working men and women a much needed break from the daily grind (because July 4th and Thanksgiving are so far apart). For some it's an opportunity to spend time with family and friends. For others it's a chance to chuck the alarm clock across the room and sleep 'til noon.
Not sure what to do on your day off? Don't worry, we've got some ideas. Check out our list of the "top 5" most enjoyable activities that don't involve firing up the work computer.
Netflix Binge
Ok, this one requires a computer; just make sure it's not your work laptop. Leave that thing alone in a cold, dark, forgettable spot. You've worked hard the past few months, so don't cheat yourself, treat yourself to an all-day Netflix-a-thon. Kick your legs up and enjoy some of the most addicting movies and TV shows on the planet. If you haven't watched the Netflix Original Series "Stranger Things" you should. It's old-school scary; we're talking "Close Encounters of the Third Kind," "Alien," and "E.T." kind of scary (hey, that little guy and his glowing finger freaked me out as a kid).
So many shows, so few hours in a day.
Nothing screams "I'm not at work" than actually screaming "I'm not at work" as you zoom down the track on your favorite rollercoaster. Grab your friends and roll out to the nearest Six Flags, Kings Dominion or Busch Gardens because amusement parks are a ton of fun (they are called "amusement" parks after all). We suggest going with a large pack of friends, that way in case someone is too chicken to ride "The Intimidator" you can guilt trip them into strapping in for a ride that's so wild it might make you forget about having to go back to work tomorrow.
Tee It High
And let it fly outdoors on the links with family and friends. Playing golf is one of the best ways to enjoy Labor Day. You're outside enjoying the fresh air, getting some exercise and sharing a few cold ones with buddies who know how to have fun. Plus who knows how long the nice weather will last, so soak up the sun in style while you can! Lots of courses nearby are offering special Labor Day deals so join the more than 25 million other Americans chasing around that little white ball. Besides, there's nothing more satisfying than watching the tears of anguish flow from your buddy's eyes after you drained a five footer for par to beat him on the 18th hole.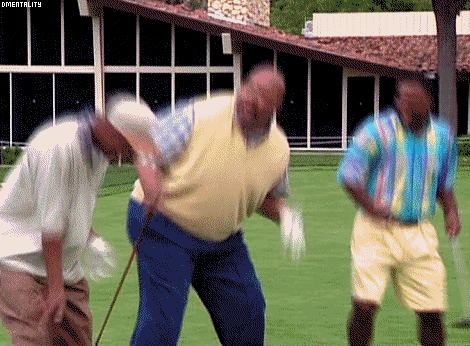 Work Ahead
Psyche! Just kidding.
Grill Master
A Labor Day staple, grilling out is a must. Hamburgers, hot dogs, beans, grilled vegies and seared pineapple make for one solid afternoon. Invite family and friends over to share a meal and some laughs, and if you're feeling really crazy, wake up at 6 a.m. and toss a couple racks of ribs and brisket into a smoker. Let it go low and slow for a few hours and you have yourself one heck of a dinner party. The only thing missing is a couple games of cornhole or lawn darts.
Water, Water Everywhere
Head to the beach! Lounge around, throw the Frisbee, crack a beer or build a sand castle as you relax by the ocean. Just don't forget the sunscreen because it's still toasty in September. Make a day out of it and pack a lunch; after all, nothing says relaxation like picnic by the ocean. Or was it cake by the ocean? Kids these days. If the ocean isn't on your radar, take your party to the lake. Enjoy an afternoon of water skiing, tubing or my personal favorite, booze cruising on the pontoon boat. Either way, splish-splash and take a bath in the nearest body of water, trust us, it gets a lot harder in the winter time.